The first stop on the green tour of our home is the threshold. We used to be overwhelmed with the amount of paper that was constantly building up in our home. Besides the drain on your time and the stress of keeping all that paper organized, think of the trees! Here is a list of the simple changes that we've implemented. Also, I'm finishing up the stragglers for Tackle it Tuesday. Maybe you can add one or two of these to your next tackle list.
Stop the Catalogs You Receive
CatalogChoice.org makes it very simple to stop catalogs. Search for a catalog, type in the name it is addressed to (helpful if previous tenants received tons of mailings), the customer number and source/key code if available and click send. That's it!
Don't Get Catalogs in the First Place
If you're in a store and the cashier asks for your phone number, don't give it out. They use it to get your address. If they say they want to know where their customers are from, offer your zip code instead. If your purchase is online look for the opt out section when you're checking out or include a note with your order.
Switch to Paperless Statements
This might seem like a no brainer, but I can't leave it off the list since this made up most of our mail. Just about every bank, utility, credit card, investment account or other company that you have an account with offers paperless statements now. Some even offer a monthly credit on your account when you switch to paperless statements.
Read Magazines Online
Even magazines are now available online. I did a search for "digital magazine subscription" and found several companies offering a large selection of popular print magazines in digital format. There's even a promotion that you can get one year free right now at the Read Green initiative.
If you can't find a digital subscription for your favorite magazine, check out the free partial content on their website and see if it is enough. Cancel your subscription and tell the company the reason you're canceling is because you couldn't find a digital subscription.
Ditto Newspapers
I've heard that some newspapers are going to start charging, but most of the news is freely available online. Update: If you have a Mac, check out my post about Times.
Ask for Emailed Receipts
I noticed a couple years ago that Apple offers an iPhone-powered portable checkout which emails your receipt to you instead of printing it. I really liked this and started asking for emailed receipts everywhere. The best example I have is our vet. We have four cats and the system our vet uses prints full page PDFs. It's usually 10+ pages in all. I'm so happy to receive those via email instead.
Stop Unsolicited Ads
In NYC there are tons of fliers, menus, circulars, and business cards left on front gates, doors and pretty much anywhere someone can cram a paper and make it stay. Did you know that violators can receive a $250 fine per ad if you don't wish to receive them? Section 397-A of the New York State General Business Law states:
No person shall place, or cause or permit to be placed on private property any unsolicited papers, fliers, pamphlets, handbills, circulars, or other materials advertising a business or soliciting business where the owner has posted, in a conspicuous location, a sign stating that the placement of such materials shall be prohibited.
Download a "No Ads" Sign
The law goes on to describe what the sign must look like. Here's are some "No Ads" signs that fit within the law that you can print and hang on your front door: Green No Ads Sign, Blue No Ads Sign or Black No Ads Sign. If anyone ignores your request you can fill out a complaint form.
If you don't live in NYC, try contacting someone in your local government and see if they can get something like this going in your area. (The NYC movement was started by several local council members.)
And Finally, My Tackle it Tuesday Project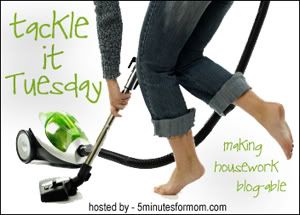 Overall, I've really decreased the amount of paper that comes into our home. There are many days that we get no mail at all! Today I am getting the last few stragglers out of my mailbox. I still receive the Crate & Barrel catalog a few times per year since we registered there for our wedding and we also receive our gas/electric bill via mail. Today I will be taking the electric bill paperless and saying farewell to the Crate & Barrel catalog. At first I was sad to cancel some of my catalogs because websites used to only show a the product on a plain background, while catalogs showed beautiful photos with the products in use and in fully decorated rooms. If you feel the same way, many retailers offer an online flip book that is exactly the same as their printed catalogs so you can check for online versions of your favorites.
What Else?
Did I miss anything? (Hard to believe with how long I went on, but I'm sure I did miss something haha). What about the envelopes addressed to "Current Resident" asking you to switch auto insurance or cable companies. Anyone have a solution for those?